Please enjoy Francois Rabbath performing the piece he dedicated to kc artist Ruthie Ingram and KCBASS during 2017 KCBASSFEST called Trombes D' Eau This piece was commissioned by International Society of Bassists for the solo competition during the convention of 2017.
1964 Rare video of Francois performing his solo bass works.
KCBASS related Info:
Every now and then, just when you thought you had things all neatly arranged in their proper order, someone comes along and not only upsets everything you've done, but demands that you change your entire way of thinking before you can even begin to put them back together again. François Rabbath is one of those people. At 89 years young Francois is a true miracle and inspiration as he doesn't seem to slow down or stop producing amazing new works, new publications, performances, and educational events.
Francois has been a dedicated teacher in his incredible series of five volumes of books Nouvelle Technique de la contrabasse. His establishment of the Institute of Rabbath in Paris France has produced many of the great virtuosos of the world. He also has been dedicated to teaching young bass players in his work with the George Vance in the mid to late 90s. The bass workshop for kids to have access to Maestros incredible teaching started in the Washington D.C. area til George's passing. George commissioned Francois to record his books for the reference recordings of the Progressive Repertoire for Double Bass vol. 1-3. as well as Rabbath Vol. 1 recording. This is invaluable teaching tool as students at every level can hear Francois tone, phrasing, and artistry.
The work continue in the 2010s on in his close work with KCBass workshop founder Johnny Hamil which was dedicated to the memory of George Vance. Not only did they continue the workshop in Kansas City, they went on a series of tours of USA to help reach more young bassists. This included helping start bass workshops for young bassists in Minneapolis, Austin, Los Angles, as well as visiting many in the same mindset. Francois believes in the future of all bass players and part of his legacy is to pass along his teaching philosophy. The workshops all represent this and will work towards passing it along for the future.
The product of these events have seen many participants and faculty continue to rise into great artists and teachers in the world. It is rare for a artist of such ground breaking vision to also take up the mantel of educator to such an amazing degree. both series of Rabbath books and Vance books are some of the most widely used method books used world wide. He has received many accolades in this department but, none more than the list of his students who have gone on to great things. A short list would be Paul Ellison, Nicholas Walker, Hans Sturm, Ted Botsford, Shawn Conley, Lynn Seaton and Etienne LaFrance.
Rabbath Artwork: Ruthie Ingram (kc artist) was so moved by Rabbath's performance she painted this portrait of him while performing at KCBASSFEST. We surprised him by giving it to him at his concert the next summer. Now it hangs in his Parisian Home (see picture below). It also is the sheet music cover for the original new piece Trombe D Eau that is dedicated to Ruthie and KCBASS (We are honored) Ruthie loves the bass family and wanted to donate reproductions of the painting to help raise money to the kcbass foundation. The poster size is is 32H X 24 W (inches) and you can download a pdf of it to see how amazing it is. We have sold these posters worldwide and she titled it the Sound of the Bass. You may also get a reproduction `that look just like the original done on Giclee (canvas) in three different sizes. These are $300 for 48H X 36 W (the actual size of the original), $205 for 32H X 24W, or $130 24H X 18W (shipping fees are approximately $10 USA destinations and worldwide would have to be determined). These look good in Bass studios, practice rooms, performance spaces, and Night clubs. They make great gifts for your bass player in your life.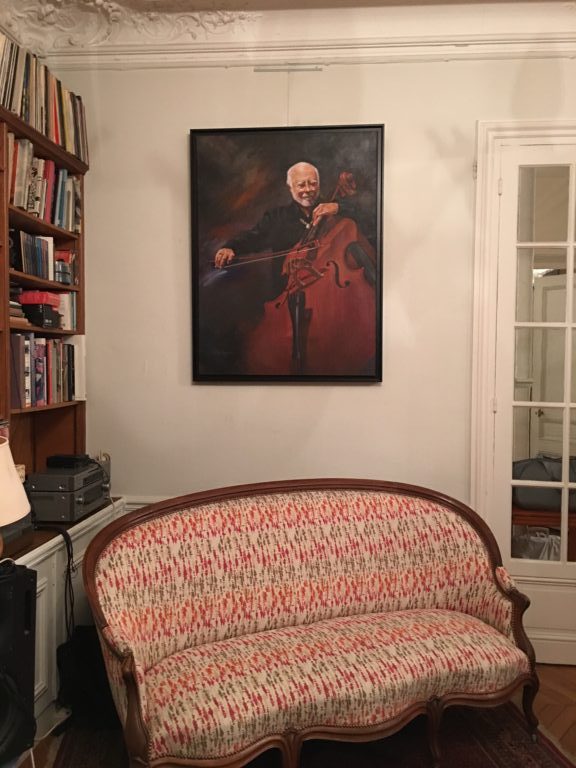 Bio
Born in Aleppo, Syria into a musical family of six boys and three girls, François discovered the double bass at the age of thirteen when one of his brothers brought an instrument home and allowed him to experiment with it. When the family moved to Beirut, Lebanon he found an old copy of Edouard Nanny's Contrabass Method in a tailor shop and with some difficulty, since he read neither music nor French, began to teach himself. After nine years of work in Beirut, François saved enough money to move to Paris for a year. He was eager to go to the Paris Conservatory, meet with Monsieur Nanny and show him what he was able to do with the bass. When he applied at the Conservatory he was disappointed to learn that Nanny had died in 1947. He was also told that auditions were to be held in three days and that he would never have enough time to learn the required pieces. He asked for the music anyway and returned three days later to finish first among the applicants. However, his stay at the Conservatory was a brief one, since it didn't take very long to see that he was not only far ahead of the other students but of the professors as well!
While in Paris he began to earn his living as an accompanist for Jacque Brel, Charles Aznavour, Gilbert Becaud, Michel Legrand and others. In 1963 he made his first of many solo record albums. Although never advertised or promoted, the Phillips album Bass Ball became one of the most sought after recordings of its time.
From 1964 he became active composing much music for movies and the theater. At the same time he started to play solo recitals, first in France, then throughout Europe. His American debut was in Carnegie Hall in 1975 with Special guests Ornette Coleman and Paco Ibanez.
François Rabbath's uniqueness stems from his refusal to accept any traditional limitations. Whether performing his own fascinating compositions, the music of others or the classical repertoire, one is always moved by his profound musicianship and dazzling virtuosity. You quickly discover that he brings you such a sense of security that the most difficult passages sound effortless.
In 1978 Rabbath met the American composer-double bassist Frank Proto. A close friendship quickly developed when the two discovered that they had many shared musical experiences and philosophies. Neither had any respect for the boundaries that separated classical, jazz and ethnic musicians. Both were as comfortable playing chamber music at a formal concert one day and improvising with jazz musicians the next. In 1980 the Cincinnati Symphony asked Proto to compose a concerto especially for Rabbath. The resulting Concerto No. 2 for Double Bass and Orchestra was premiered by Cincinnati in 1981. Two years later the Houston Symphony asked Proto to write another work especially for Rabbath. The Fantasy for Double Bass and Orchestra was premiered in Houston in 1983. Rabbath has since played the work around the world. Their third collaboration, the Carmen Fantasy,began life as a work for double bass and piano. Rabbath again premiered the work in Cincinnati in July of 1991 with the composer at the piano. Proto orchestrated the work in the spring of 1992. All three works have been recorded and are available on the Compact Disc Frank Proto: Works for Double Bass and Orchestra. (Red Mark 9204). Their most recent collaboration has been on Proto's Four Scenes after Picasso – Concerto No. 3 for Double Bass and Orchestra.
We are fortunate in that Rabbath has recorded constantly through the years. His sequel to Bass Ball – Multi Bass '70 (Red Mark 9202) is still available, as is Live Around the World (Red Mark 9201), a collection of his own compositions recorded in concert. The original Carmen Fantasy for Double Bass and Piano with the composer at the piano, was recorded recently along with his own Concerto No. 3 and Two Miniatures – Carmen! (Red Mark 9203).
The importance of François Rabbath to the development of double bass playing can be compared with that of Paganini to the violin. Since the early 1800s when Nicole Paganini established the violin as a virtuoso instrument, solo violinists have practiced the most brilliant of instrumental art. Meanwhile, the development of double bass playing had been seriously neglected. The great and popular 19th century composers did not consider the bass worth their attention and in turn the bass repertoire did not attract potential virtuoso performers with enough genius to change the situation. It demanded an artist with the unique qualities of François Rabbath to break this impasse.
Francois along with George Vance/KCBASS alum Dr. Hans Sturm has also made these innovative DVDs to help learn more about his teaching. click here to visit the website Art of the Bow
Francois was the first bass player to record all six Bach Cello suites. This paved the way for many of the bass players to be able to perform these at a high artist level. You can find a link to buy this two cd set at the Art of the bow link above.