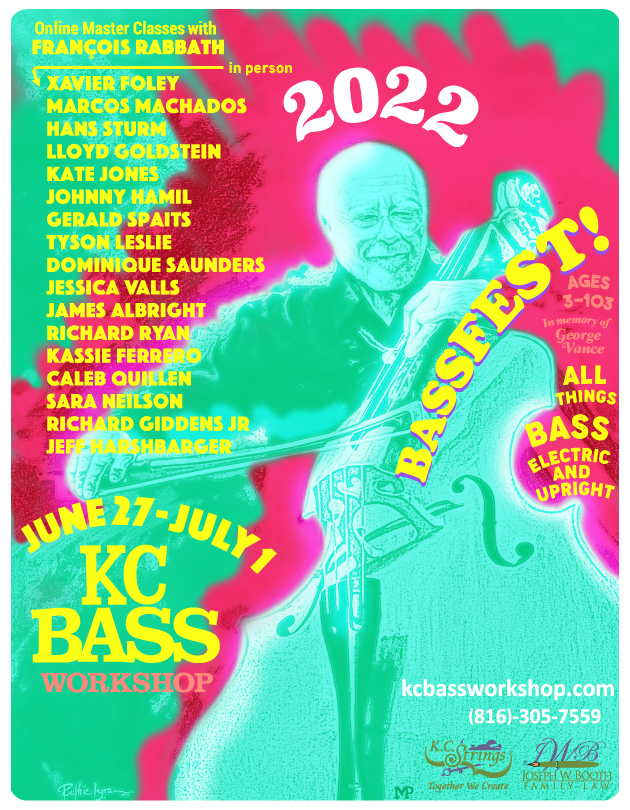 5 nights of concerts featuring the BASS! Yes the glorious sound of the double bass and Electric bass should be celebrated like this year round but, this week is all about showing you what the instrument can do.
Mon June 27th-Fri July 1st 6pm-9
All 5 nights for the low price of $30.
Looking to bring the whole family? Or a large group of people? You can buy a family package for a discount price of $100. This will allow the whole family or up to five people.
these venues are the real places musicians perform in regularly and each one sounds amazing with great ambiance for the concert. This allows the students to see how kc music works and thrives. Please note: the student enrolled will get a free ticket for them The KCBassfest is attended by all music fans and not just students studying the bass. To get warmed up please go to the you can go to kcbassfest Facebook and watch some of our amazing concerts in the past years.
If you are trying to get more info about the concerts please call (816) 305 7559 and not the venues contacts for a more direct answer. The list of performers for each night is tentative but, we reserve the right to move some around depending on the artists schedules.
Classical June 27th Monday All Souls Unitarian Church 4501 WALNUT ST., KANSAS CITY, MO 64111
The church is located on the Plaza and is a great location to have dinner and/or go to a nice stroll thru Kemper Museum or Nelson Museum. Our contemporary Orchestra New Ear Ensemble performs at this location often.
Sara Neilson
Kassie Ferrero
Richard Ryan
Caleb Quillen
Kyle Motl
Kate Jones
Jessica Valls
Electric Bass June 28th Tuesday recordBar 1520 Grand Blvd Kansas City, MO 64108
Johnny Hamil (GAV7D VideogameSolo Bass Recording Release)
Jeff Harshbarger
Lloyd Goldstein
Dominique Saunders
Tyson Leslie
James Ward
Jazz June 29th Wednesday The ship 1221 Union Ave, Kansas City, MO 64101
Christian Chesanek
Hans Sturm
Gerald Spaits
James Albright
Richard Giddens Jr.
Don't miss June 30th Thursday Grace and Holy Trinity Cathedral 415 West 13th Street Kansas City, Missouri 64105
Marcos Machado
Xavier Foley
Big Bass blow out Friday Shawnee Mission North High School Auditorium 7401 Johnson Drive, Overland Park, KS 66202
Large Bass Orchestra:
performing with all participants of kcbassworkshop Xavier Foley lead us in his amazing piece The Irish Fantasy
A special song that Francois Rabbath has sent us to perform
Western a la Brueght (from his first album Bass Ball written for Quincey Jones)
Iron Man by Black Sabbath arranged for Bass Orchestra by J. Hamil.
Go Chicken Go greasy Gizzard by J Hamil for Bass Orchestra.
All Bass orchestra and ensemble blow out. More basses on stage than anyone thought possible. Park in the far west parking lot.
The small enesmble will present Jazz, Classical, Rock, Weird and Wacky and Potentially Dangerous music.
Here is Francois Rabbath playing at the Grace and Holy Trinity. What an amazing concert.
You can also buy this amazing t shirt or mask to help raise money for Bassists 4 Bassists $30 each $5 shipping. some taxes may apply. Visit our store page to purchase and look at more items.