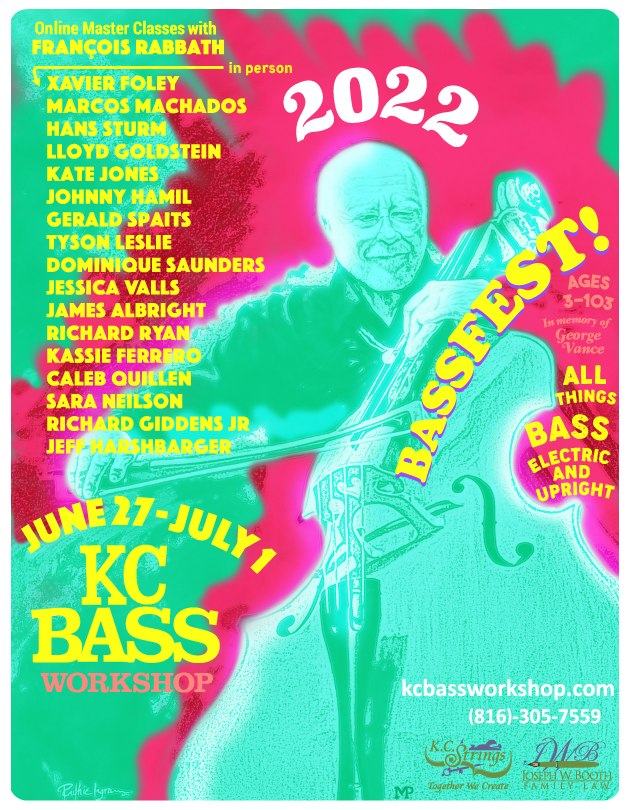 Click here to Enroll KCBassworkshop 2022
CLICK HERE to pay by credit card
Buy Tickets kcbassfest
June 27th- July 1st
In person and hopefully back to normal workshop.
online options as well. Double Bass and Electric courses
Featuring
Francois Rabbath (virtual masterclasses), Xavier Foley, Marcos Machado, Hans Sturm, Lloyd Goldstein, Kate Jones, Johnny Hamil, Gerald Spaits, Tyson Leslie, Dominique Saunders, Jessica Valls, James Albright, Richard Ryan, Kassie Ferrero, Caleb Quillen, Sara Neilson, Richard Giddens Jr., Jeff Harshbarger, Misha Krutz, Kyle Motl, Christian Chesanek .
Faculty subject to changes.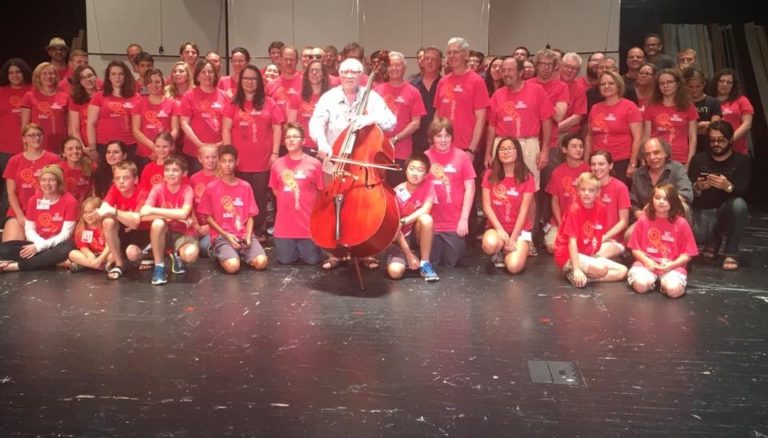 Workshop held at Shawnee Mission North High School
7401 Johnson Drive, Overland Park, KS 66202. Park in far west parking lot and enter thru door marked with kcbass banner. Please call or text 816 305 7559 for more questions.
Below is the link to the hour long radio show done on 91.9 fm Classicalkc with Johnny Hamil and Francois Rabbath talking about the kcbassfest and workshop. It's a great insight into what happens every year and very inspiring listen.
CLICK HERE DONATE BY CREDIT CARD NOW
KCBass Workshop is registered as a 501(3)c public charity. We are an organization that is worthy of your donations regardless of the event. Donations made to KCBass Workshop by check or through credit card donation may or may not be regarded as a full tax deduction. Please consult with your tax adviser to be sure
online: fundraising.fracturedatlas.org/kcbassworkshop. Fractured Atlas is a 501(c)(3) public charity; all donations are tax-deductible to the extent permitted by law.
Check: Make payable to: KCBass Workshop. Mailing address: 5304 Russell St.
Mission KS, 66202
check out the story how Xavier found his way to kc thru Johnny and his son Leon. Also check out the new podcast Jamming with Johnny KC Bassstream at Johnnyhamil.com
RABBATH PREORDER
Check out the new Rabbath Bio with the KCBASS artwork on the cover. This artwork comes from Ruthie Ingram who made the painting for Maestro a few years back. Many of you have this hanging on your walls just like Rabbath (see our store for your print). Our t shirt designer Marco Pascolini made the image for our t shirts and now it graces this amazing book. When you order your book add KCBASS in the messages part and they will donate 10% to kcbass fund!!! Order Bio
75 YEARS ON 4 STRINGS: The Life and Music of François Rabbath
Now available as preorder: paperback or special limited edition hard cover book with a hand drawn, signed postcard.
What do tightrope walker Phillipe Petit, movie director Nicholas Roeg, music producer Quincy Jones, artist Pablo Picasso, cabaret singer Edith Piaf, and the Paris Opera have in common?
Written over a five-year period, 75 Years on 4 Strings, portrays the life of François Rabbath, from his earliest memories as a child in Aleppo in the 1930s to his 90th birthday virtual recital in Paris in 2021. The much beloved artist-teacher sat for countless hours of interviews and shared candid stories from throughout his illustrious career. Artists and musicians from across the world spoke of their encounters and collaborations with François – Paco Ibañez, Philippe Petit, Frank Proto, Paul Ellison, Minas Lourian, GP Cremonini, Barry Green, Thierry Barbé, Johnny Sølvberg, and many, many more.
Holiday Sale of Rabbath music! Hey did you know Rabbath music is actually not on your streaming services but still found on CD in our store? We have six amazing titles that will keep your ears happy all winter. We are running a sale for you to get yourself or your friends a copy of these now "rare" albums. Get them before you cannot anymore. $10 each or 3 for $25.
Live around the World- Pochas-Dass, Breiz, Reitba, Iberique, Kobalds, Concerto no. 3, and more.
Multibass 70- Incantation, Odessey d eau, and more
Carmen- Proto Fantasy with Piano accomp. Incantation with piano.
Works for Orchestra- Carmen Fantasy with orchestra, earlier works composed for Francois by Proto,
Nine Variants on Paganini- performance with orchestra and performance with piano, Reitba with orchestra (this video is huge on Youtube).
Four Scenes after Picasso- A rarely performed amazing piece by Proto for Francois on the artwork of Picasso.
We will also offer these fun holiday Bassmas t shirts $30. or 2 for $50. Taxes and postal fees do apply (USA shipping only). You may also mix any style shirt we have available. Buy T shirt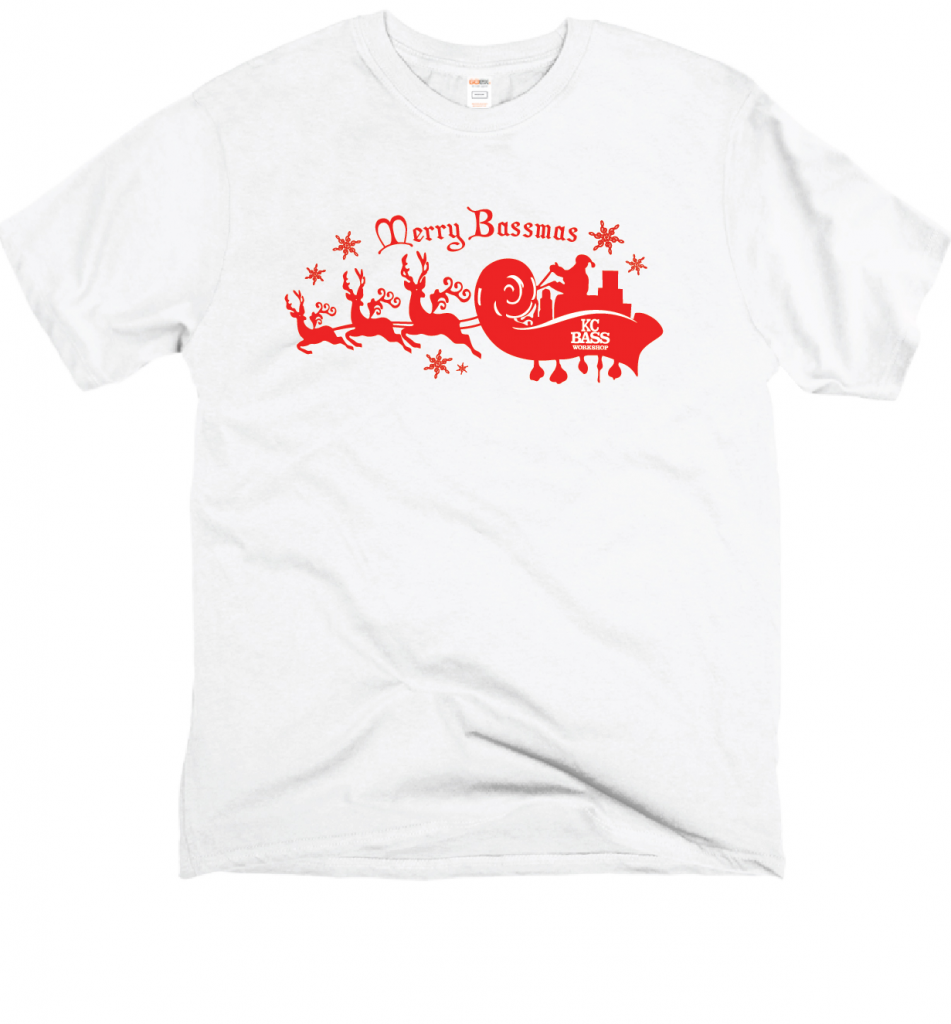 Sheet music and more makes great gifts! Check out our store for many great sheet music selections to buy for you or your bassist friend.
KCBASS is always in loving memory of George Vance.
CLICK HERE DONATE BY CREDIT CARD NOW
online: fundraising.fracturedatlas.org/kcbassworkshop. Fractured Atlas is a 501(c)(3) public charity; all donations are tax-deductible to the extent permitted by law.
Check: Make payable to: KCBass Workshop. Mailing address: 5304 Russell St. Mission KS, 66202