Enroll for KCBASS COVID Sept 4,5, 6th 2021
We proudly announce an in person (limited Capacity) Bass workshop September 4,5,6th with in person InstructorsJohnny Hamil, Hans Sturm and Jeff Harshbarger . Francois Rabbath will give virtual masterclasses daily (most in person participants will play directly for Maestro). Lloyd Goldstein and Andres Martin will also be virtual masterclass.
This year will only be double bass in person (i.e. no electric bass only at this time) due to the limited space available. Electric basses only can do the virtual if there is enough interest.
The event will be held at The Record Bar 1520 Grand Blvd, Kansas City, MO, 64108 (note we are guest of the space and not open to the public in it's normal capacity during our time). The hours are 10am-5pm everyday. Final concert will be on the 6th which will be open to the public (currently still pending). All Covid safety measures will be asked of the attendees. Currently, that is proof of vaccination or proof of a 72 hours negative Covid test. There is a possible requirement of wearing a mask during the hours of the workshop. The staff is all vaccinated. We ask any participant that cannot take these steps to please enroll in the online version of the workshop this year. Unfortunately at this time we can only offer in person spots to students not old enough to come by themselves (i.e. no parent help) in order to keep the numbers in the venue to participants only. We hope that we can hold a proper full workshop after the pandemic is over. We thank you all for your support and excitement for this and future events. We are all grateful we can hold this exciting event this year. If you can make a donation to help keep the workshop active and healthy during the this difficult time please click link below.
Last minute info for in person guests.
record bar is closed to public as this is a private event designed for the Covid issue. All people coming into the venue will need to present their vaccination info to kcbass staff or provide a 72 hour negative Covid test. We will also be wearing masks while inside for most of the event.
Arrival- you can get into space at 9:30 am to get your instrument out and ready to play by 10. On Sat and Sun we will need you to depart 5. ANY RIDES WILL NEED TO BE ON TIME AS THERE ARE EVENTS AT RECORD BAR @ 6.
PARKING: Parking on the streets around the record bar is free Sat and Sun. Mon you should pay the meters (they are on a credit card system thru the app (so no change or cash). Please note: they do tow in KCMO but, it should be a down weekend as there are not a lot of large events. There is a parking lot that is $5 for the day, just a block east of the record bar.
Bring your bass and stand. You will need to take all of your belongings everyday as there are events in the evening each night.
Lunch: There are lots of great small restaurants across the street from the site which is walkable. There are also some great places if you drove yourself. Most of these are easy to find with your GPS. You can also have food delivered to the site. And of course bringing a sack lunch is an option. We will have room temperature Dasani Water for anyone who needs one or you can bring your own. There is a microwave available to heat up anything but, not fridge to keep your lunch in. IF YOU ARE NOT 16 YOU WILL NOT BE ABLE TO LEAVE TO GO EAT ON YOUR OWN. Parents will need to meet you for lunch to go eat and or talk with staff about arrangements.
Parents and friends can attend your performances (solo hour) and final concerts. Everyone must show either Vaccination info, or a negative Covid test that is within 72 hours, and must wear a mask. During the final concert there will be drinks available to buy from the bar. The concert will be presented for the audience both in person and online through Zoom and Facebook. The final concert is only open to friends and family. We will stream most of the events in the zoom link so anyone related to the performer can come to the zoom link if the in person isn't an option. There is no admission fee but we will accept all donations.
Online students (not observers) need to make sure to either send a video performance of your piece or to have good connection (best if you are near where the internet enters your home.).
Daily Schedule:
10 Scales/ Warmups/ Technique
11 Bass orchestra
12 lunch break
1-230 Francois Rabbath Master class (see below for order of student performing)
2:30-330 Solo Recital (students see below for order of performance)
3:30-5 Sat: Andres Martin master class/ Sunday Lloyd Goldstein.
Final day: 2:30-3 Concert prep/ Bass orchestra
Final Concert order Bass Orchestra Hallelujah by L. Cohen arr. J. Hamil , Take Five by Paul Desmond , Iberique Pennisulaire by F. Rabbath
Johnny Hamil performs music from Videogame solobass
Kassie allemande fourth suite by J.S. Bach
James Ward selections announced from stage
Sara 2nd suite by J.S. Bach
Caleb Quillen Selections announced from the stage.
Hans Sturm and Jackie Bass meets voice
Rabbath Masterclass performers (note: if we don't get thru all of these they will move to the following day)
Saturday:
Danae Darrell Arianna Rich Burgess Daphnee Melody
Tamara Gabriel Guna Jack Logan Ephram
Sunday
Will Daniel Nate Ansh Josh Clarke Amil Thomas Viviana
Monday
Bethany Kristin Benson, Rabbath Philosophy and bass orchestra plays Iberique for composers input.
Andres Martin masterclass performers: Daniel, Will, Arianna.
Lloyd Goldstein masterclass Melody Tamara Daphne
CLICK HERE DONATE BY CREDIT CARD NOW
KCBass Workshop is registered as a 501(3)c public charity. We are an organization that is worthy of your donations regardless of the event. Donations made to KCBass Workshop by check or through credit card donation may or may not be regarded as a full tax deduction. Please consult with your tax adviser to be sure
online: fundraising.fracturedatlas.org/kcbassworkshop. Fractured Atlas is a 501(c)(3) public charity; all donations are tax-deductible to the extent permitted by law.
Check: Make payable to: KCBass Workshop. Mailing address: 5304 Russell St. Mission KS, 66202
We will also offer these fun holiday Bassmas t shirts $30. or 2 for $50. Taxes and postal fees do apply (USA shipping only). You may also mix any style shirt we have available. Buy T shirt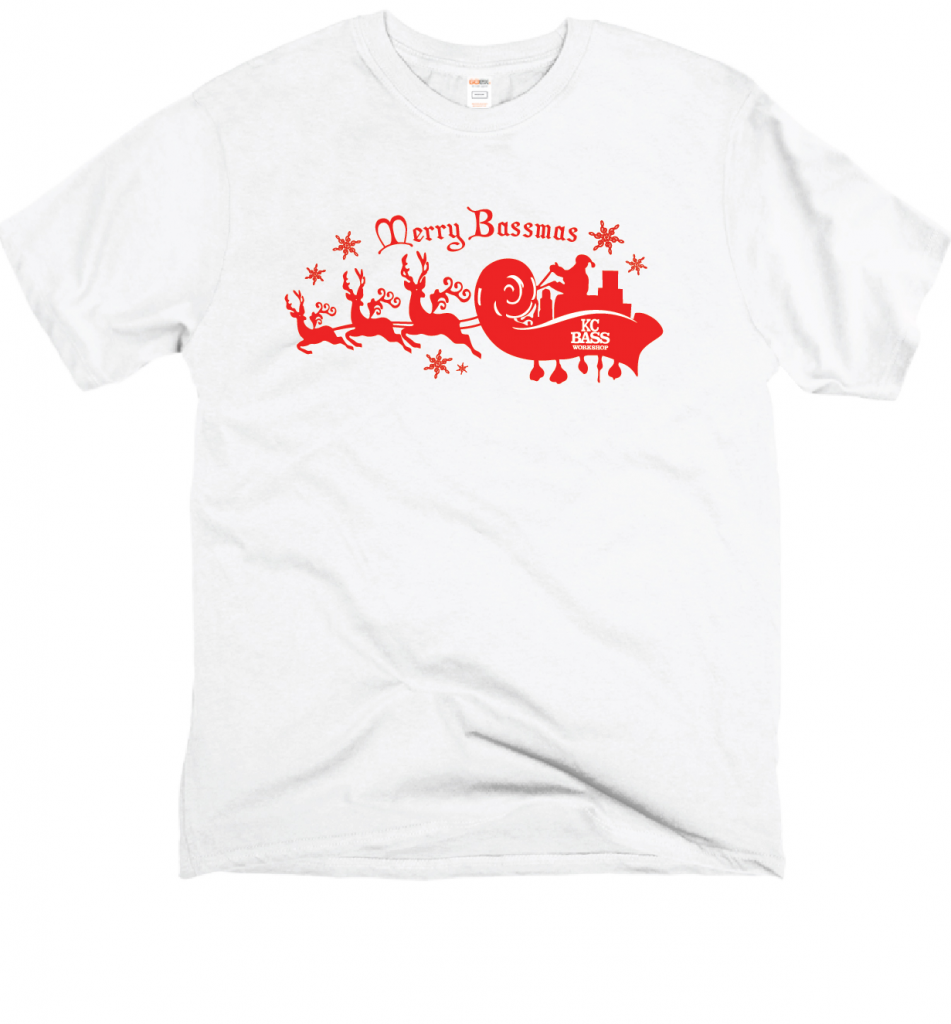 For the summer bass 4 bass event we raised $22,000 thanks to your generosity! We hope to raise more as the pandemic is getting worse for the musicians.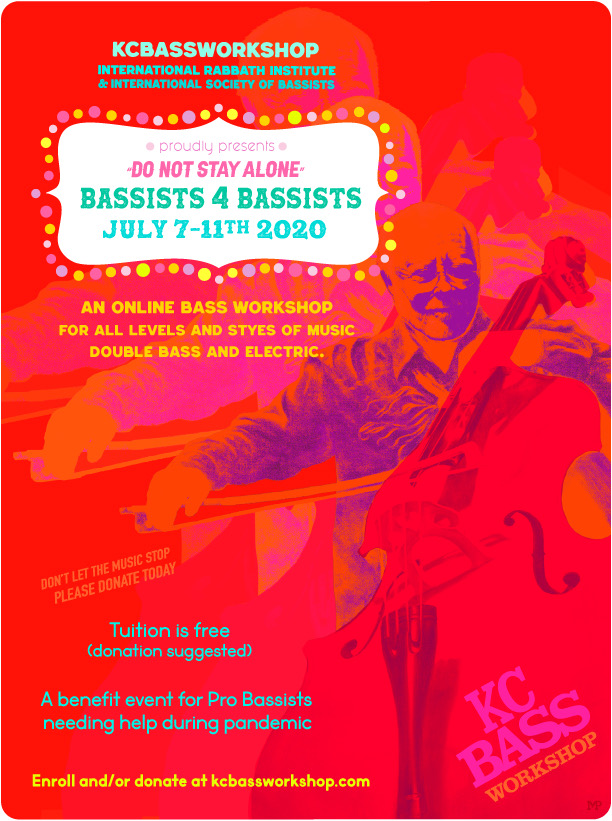 KCBASS is always in loving memory of George Vance.
CLICK HERE DONATE BY CREDIT CARD NOW
online: fundraising.fracturedatlas.org/kcbassworkshop. Fractured Atlas is a 501(c)(3) public charity; all donations are tax-deductible to the extent permitted by law.
Check: Make payable to: KCBass Workshop. Mailing address: 5304 Russell St. Mission KS, 66202