KCBass is a fun filled week of workshop, master classes and concert series created for all styles and levels of bass players. (Double Bass and Electric Bass). Take a few days to recharge your creative and artistic self. Make new "bass" friends and memories. Play and learn from the best performers in the industry. The bass family awaits!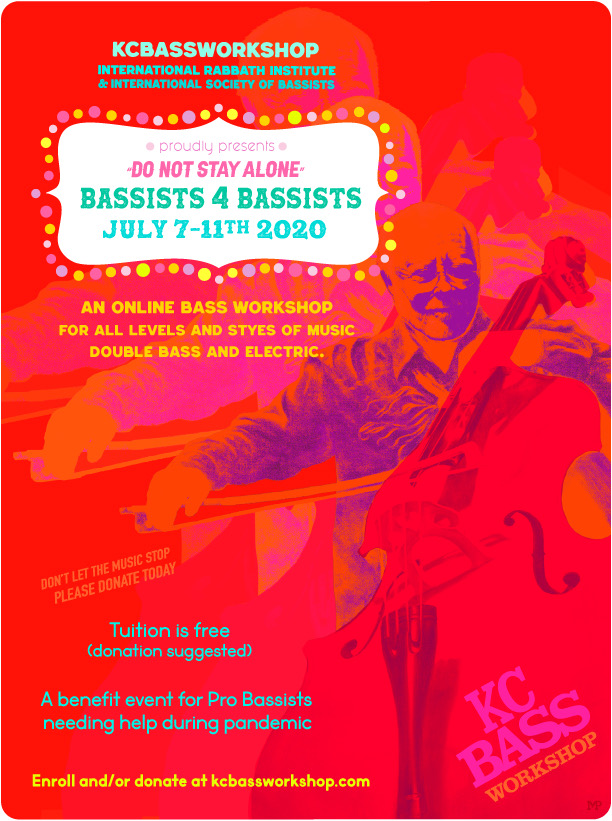 The KCBASS WORKSHOP
International Rabbath Institute &
International Society of Bassists proudly present
Bassists 4 Bassists
"DO NOT STAY ALONE" -Francois Rabbath
July 7-11, 2020
Don't miss this once in a lifetime event!
Tuition is Free – A donation is suggested as many of the faculty are donating their time and art to raise money for the bassists that are financially hit hardest by the pandemic. Please consider making a donation to let your fellow bassists know they have the support when they need it most. The Bass family pays it forward!
KCBASS is always in loving memory of George Vance.
CLICK HERE DONATE BY CREDIT CARD NOW
Featuring the Bass family:
Francois Rabbath ● Lynn Seaton ● Hans Sturm ● Etienne La France ● Paul Ellison ● Billy Sheehan ● Anthony Wellington ● Ted Botsford ● Johnny Hamil ● Nina DeCesare ● John Clayton ● Jason Beers ● Kate Jones ● Dennis Whitaker ● Szymon Marciniak ● Andrew Raciti ● Jory Herman ● Shawn Conley ● Marcos Machados ● Lloyd Goldstein ● Grace Lewis ● Frank Proto ● Doan Brian Roessler ● Gaeleen McCormick ●Nick Walker ● Jessica Valls ● Christian Chesanek ● Kassie Ferrero ● Jonathan Fisher ● Andrew Ryan ● Eric Thorin ● Jeff Harshbarger ● Brian Hicks ● Tyson Leslie ● Dominque Saunders ● James Ward ● Heather Miller Lardin ● Kyle Motl ● David Young ● George Fahlund ● Gerald Spaits ● Bob Bowman ● Robert Peterson ● Martha Vance ● Jeff Kail ● Caleb Quillen ● Richard Ryan ● Steve Tulipana ● Anthony Stoops ● David Murry ● Volkan Orhan ● Ryan Madora ● Tracy Rowell ● Ken Poggioli ● Kristin Benson ● Chris Threlkeld Weigland ● Robert Castillo ● Rick Willoughby ● Brandon Mason ● Nash Tomey ● Aaron Osbourne ● Adam Booker ● Harish Kumar ●Will McClain Cravy ● Aurelien Fradagrada ● George Vance ● Cyrill Rabbath
Send in your video and get put in this video along with the legends John Clayton, Lynn Seaton, and Hans Sturm!!!
Enjoy Maestro's powerful message for our future in this video.
For a complete list of courses and descriptions please click on the Workshop Courses page.
Additional methods to make donations.
Check: Make payable to: KCBass Workshop. Mailing address: 5304 Russell St. Mission KS, 66202
Online: fundraising.fracturedatlas.org/kcbassworkshop. Fractured Atlas is a 501(c)(3) public charity; all donations are tax-deductible to the extent permitted by law.
KCBass Workshop is registered as a 501(3)c public charity. We are an organization that is worthy of your donations regardless of the event. Donations made to KCBass Workshop by check or through credit card donation may or may not be regarded as a full tax deduction. Please consult with your tax adviser to be sure.
We like to thank the following list of our donors.
$500 and Above
KC Strings and Krutz family – The Crosby family – Nate Crews –
Heartland String Bass Shop-
$200-500 donation
Aiden Young – Laura Wizen – Alan Lewine – Thrush family – Hunter Family – Brian Padavic – Jake Wheeler – Julie Broski- Levandoski Family – Geoff Chalmers – Alan Lewine – Owlsong Productions – Abhi Bansal – Josie Frazer – Owen Stevens family -Danae Sabinas Family – Cali Schulben Family –
up to $200
Noah Zakas – Denise Quan- Frank Proto – Melody Zakarian – Daphne Zakarian – José A, Carrión- Thiago Costa – Adhithi Narasimhan – Andrew Raciti Family – Sam Yamarik – Robin Steuteville- Joesph Wagner Family –  Stella Mages family
Additional Information
The above link is for our square account. We can also take payments via Paypal and Venmo and this may be without fees for us.
If you are a returning participant, please use the process we have done in the past.
If you need to wait to donate please don't forget about us!
Donations may be made at any time all throughout the year.
Website
We are updating our website each week, please be patient as we are a volunteer-based organization.
The online format is a new venture for the workshop so look for updates as procedures may have to be changed.
Please keep coming back to our website as the days get closer to the event.
All questions can be sent to hamiljohnny@ gmail.com
This year we will have both of these amazing bassists from the L.A. Philharmonic on faculty
Lifetime faculty member Hans Sturm with his wife Jackie Allen.
Lloyd Goldstein a lifetime member of KCBASS Faculty does an amazing job of explaining some of the history of where the workshop comes from. And then plays the most epic recital piece of all time!
First time KCBass Workshop faculty member Lynn Seaton will be great addition for all jazz bassists and jazz lovers to enjoy. Check out this amazing duet with Christian Mc Bride.